Notes on "Le Commanditaire" (Anselme Bellegarrigue)
23-05-2019 20:05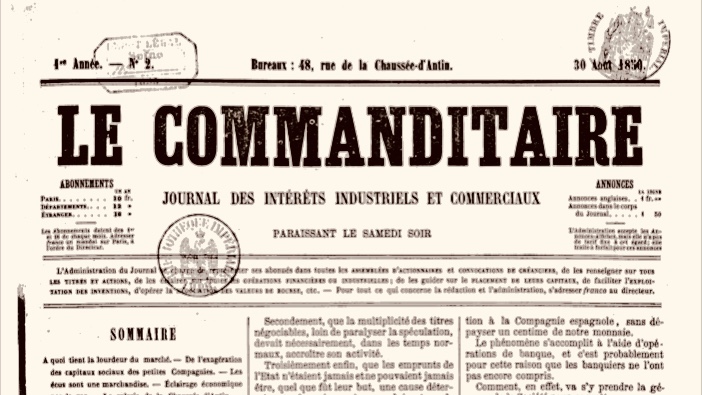 [one_third padding="0 10px 0 0px"]
"The world is only a vast market, where the individual appears at once as merchant and as merchandise."
Le Commanditaire is apparently among the least well known of Anselme Bellegarrigue's projects. I stumbled on it while keyword-searching through the Gallica collection. The paper lasted for three issues before being shut down by the government. The focus seems to have been on the practical means of associating within the existing legal framework, but the charge of "outrage a la morale publique" makes it clear that Bellegarrigue did not withold his more radical opinions.
The following articles are signed "Bellegarrigue":
De la commandite en général
A quoi tient la lourdeur du marché
Si toute les industries sont légitimes
[/one_third][two_third_last padding="0 0px 0 10px"]
Of Limited Partnership in General.
Regarding the law of July 17 and the societies that it has given rise to.
[excerpt]
I have written somewhere the aphorism that I reproduce here because it expresses a broad, powerful, and incontestable fact, on which I intend to base this journal, in praise of reality and with disdain for fictions:
"The world is only a vast market, where the individual appears at once as merchant and as merchandise."
To those who ask me if it is good that the social traffic or speculation be extended beyond things and take in even persons, I would respond that I do not know and do not want to know if that is good or if it is bad; that it is fully sufficient for me to be certain that it is the case; that, all things considered, we have need of people of every branch of knowledge and every gender at least as frequently as we need a toothpick; that it is fortunate that the market should be established in such a manner that all necessities are satisfied; that the right to sell the product does not seem to exclude the possibility of alienating the machine; and that, finally, by trafficking with their character, their strength, and their genius, individuals dispose of properties the legitimacy of which it would be difficult to contest.
I am not unaware that, despite the natural and fundamental uprightness of all transactions, there are some of them that are charged with irregularity by public opinion and suppressed by its magistrates. In order to remain in agreement with the principle established above, I must not, as my confreres have always done, take a position on this point for or against the public opinion represented by its magistrates; considering that everything in the world is industry or commerce, I take the delinquents for competitors for that opinion and the repression for the triumph of a current method over another method which would like to become current. If the magistrates punish adultery and smuggling, it is obviously because the opinion that they represent flow from practices opposed to those [repressed] practices to deal with love and tobacco; in this case, as in all, the competition turns inevitably to the detriment of that which is not in vogue.
I said then and I maintain that it is to the industrial order that we must logically reduce all the social facts. The Americans understood and practiced the thing before us, and they have found it good.
But every industrial act involves two capitals: the genius of conception and the power to put it to work; in other words, intelligence and money.
Commercially speaking, intelligence and money combined with the goal of operating a common enterprise are called, respectively, the general partner, and the limited partner. We call their association a limited partnership.
That partnership thus gives the fundamental reason for all the industrial or social facts, which are all one, since the social state is itself, as much in its details as in its ensemble, only a vast enterprise financed by the citizens.
It follows from this that every individual born in a civilized country is, by that fact alone, a limited partner. […]
---
TRIBUNAL CORRECTIONNEL DE PARIS (vacations).
Présidence de M. Rolland de Villargues.
Audiences des 8 et 10 octobre.
le journal Commanditaire. — publication sans cautionnement. —  outrage a la morale publique. — condamnation. —  suppression du journal.
Les prévenus sont M. Anselme Bellegarrigue, rédacteur et propriétaire du journal le Commanditaire, et l'imprimeur du journal.
Le tribunal a rendu la jugement suivant :
« Attendu qu'il est établi et qu'il n'est pas d'ailleurs contesté que Bellegarrigue a publié sans autorisation du gouvernement et sans cautionnement, à là date des 23, 30 août et 6 septembre dernier, trois numéros d'un journal ayant pour titre le Commanditaire, journal des intérêts industriels et commerciaux, paraissant le samedi soir; lesdits numéros signés Bellegarrigue, propriétaire-gérant, et imprimé par Napoléon Chaix;
« Attendu que, dans l'article intitulé « De la commandite en général, » publié dans la numéro du 23 août; dans celui intitule « De la lourdeur des fonds
publics, » publié dans le numéro du 30 août; dans celui intitulé « Si toutes les industries sont légitimes, » publié dans le numéro du 6 septembre, ce journal ne se borne pas la discussion purement pratique des intérêts d'une branche d'industrie,—qu'il se livre à l'examen de la loi du 17 juillet 1856 sur les société en commandite, qu'il en approuve les motifs, les conséquences et ]a portée; qu'il expose des théories générales sur les spéculations industrielles, recherche quelle a été l'influence, sur la fortune publique, des perceptions financières de l'Etat par contribution ou par emprunt, du développement des travaux publics, des dépenses de la guerre, de la souscription nationale et des entreprises étrangères, etc.;
« Attendu qu'en se livrant a ces appréciations, à ces théories, qui touchent à des intérêts généraux et collectifs, à l'action gouvernementale et administrative, le journal le Commanditaire a traité de matières politique et d'économie social;
« Que les prévenus, en publiant ce journal sans autorisation et sans cautionnement, ont, par suite, commis une infraction aux articles 1, 3 et 5 du décret du 17 février 1852 ;
« Attendu qu'il n'y a lieu de s'arrêter à l'exception de bonne foi présentée par Chaix;
« Qu'en effet, la défense de publier des journaux ou écrits périodiques sans autorisation préalable et sans cautionnement a le caractère d'une disposition préventive de police, laquelle a pour objet de soumettre ces écrits à une surveillance rigoureuse et d'en restreindre le nombre;
« Que l'infraction matérielle à cette disposition prohibitive constitue non un délit, mais une contravention qui doit être punie, quelles que' soient l'intention et la moralité de l'agent que c'est même la qualification qui lui est donnée par l'article 5 du décret précité;
« Attendu, en outre, que les articles intitulés : 1° De la commandite en général ; 2° Si toutes les industries sont légitimes, publiés la dans les numéros des 23 août et 6 septembre, et signés Bellegarrigue, contiennent dans leur ensemble, au plus haut dégrades outrages à la morale publique ;
« Que la publication de ces articles constitue à la charge de Bellegarrigue le délit prévu et puni par l'article 8 de la loi du 17 mai 1819;
« Attendu qu'il n'est pas suffisamment établi qua Chaix ait imprimé sciemment lesdits articles;
« Faisant à l'égard de Bellegarrigue, conformément à l'article 315 du Code pénal, l'application de l'article 8 de 1a loi du 17 mai 1819, lequel entraîne la peine la plus forte, le condamne à une année d'emprisonnement, 500 fr. d'amende et aux dépens ;
« Renvoie Chaix des fins des poursuites sur le chef de prévention d'outrages à la morale publique;
« Lui faisant application des articles 1, 3 et 5 du décret du 17 février 1852, la condamne à 100 fr. d'amende pour chacun des trois numéros publiés ; le condamne, en outre, un mois d'emprisonnement et aux dépens solidairement avec Bellegarigue;
« Dit que le journal le Commanditaire cessera, de paraître. »
(Gazette des Tribunaux.)
[/two_third_last]
Read more...