Send Some Summer Sunshine
18-06-2019 04:06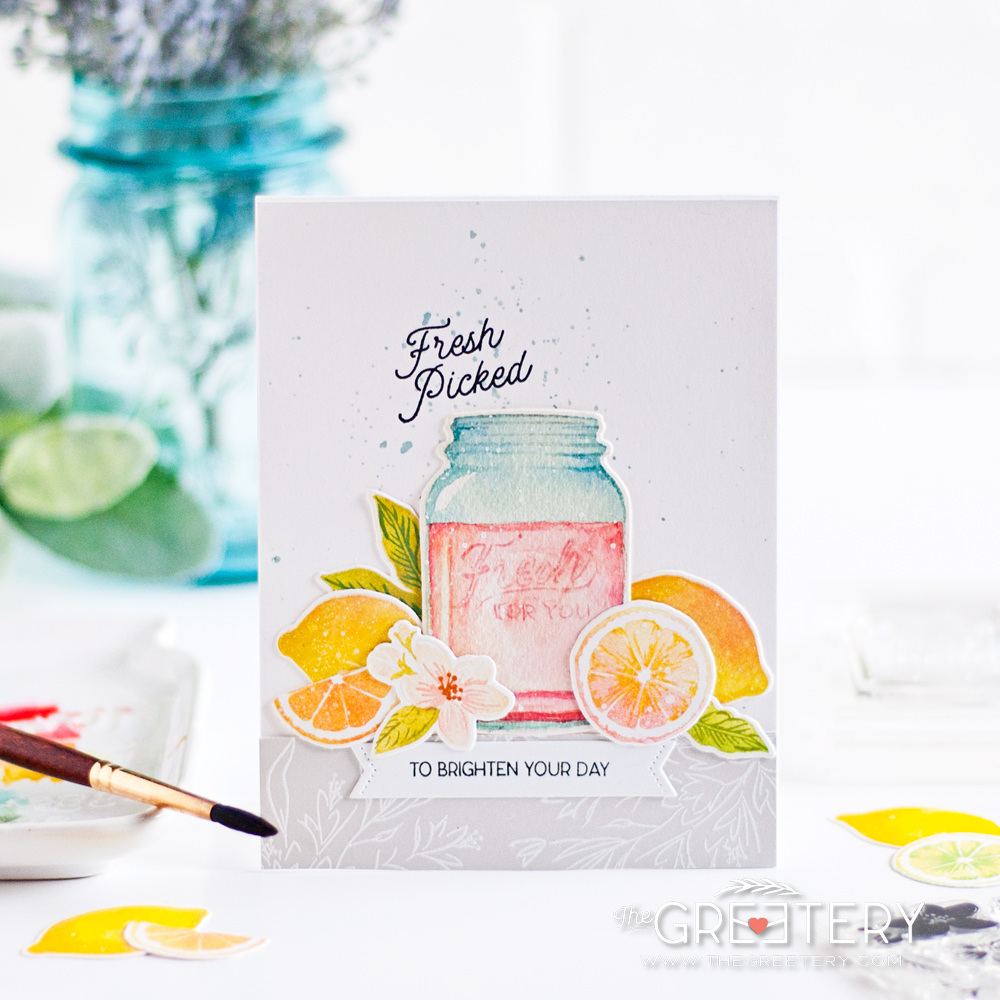 Welcome back to Day #2 of our countdown to the release of our June collection! Today is all about SUMMER! Mason jars, lemonade, and fields of daisies!
All of the new products being showcased today are part of our June collection, which will go up in the store on Friday, June 21 at 10am EDT.
Let's get right to the product introductions…
Just Mason Around Stamps & Dies
The Just Mason Around set is the perfect mason jar set! Stamping all three layers of the jar image will produce a pretty, realistic image, complete with glass-like reflections. If you'd like to experiment with your favorite coloring mediums, try stamping only the detail layer, then add color using markers, watercolors, and more. The twine can be added to the top of the jar, and some sweet sentiments finish off the set. Fill the jar with your favorite flower images, such as the Oopsie Daisy set, or fill it with some fresh-squeezed lemonade using our Lemon Blossom set.

Oopsie Daisy Stamps & Dies
Oopsie daisy! There are few things that say summer like a bouquet of daisies! Brighten someone's day with these multi-step daisy blooms. Use just a stem or two for a simple focal point, or stamp a whole bouquet! Use the twine wrap from the set to gather up the stems and give your bouquet a fun finishing touch. The variations in the blooms and different stem directions make bouquet-building easy!

Lemon Blossom Stamps & Dies
You're the zest! Send some sunshine with the Lemon Blossom set. This set is perfect for creating sweet backgrounds or fresh focal points. The two-step lemons look so realistic they'll make your mouth water! Pair these lemons with the Just Mason Around set for some refreshing summer projects!

To aid in your list-making and planning, below you will find the prices for today's products.
Just Mason Around 4″ x 6″ stamp set – $15
Just Mason Around Die – $8
Oopsie Daisy 4″ x 8″ stamp set – $18
Oopsie Daisy die – $31
Lemon Blossom 4″ x 6″ stamp set – $15
Lemon Blossom die – $12
Now for the fun part! Let's get on to the projects using these new sets!
My first card steps out of my A2 box! I've been seeing a lot of these tall, narrow cards on Instagram and I just love them! I decided that this was the perfect opportunity to try that out by making a nice big bouquet of daisies! Of course the new Just Mason Around jar is the perfect container for my bouquet. I stamped it here using Oxide inks, using the sponging method I showed a few weeks ago in this post. I just love this jar and how three easy steps give you such a fun realistic result! I mixed in some eucalyptus from the Simple Things set to fill in my daisy bouquet. I finished off the jar with the "twine" from the set and also added a small tag from the Sentiment Suite: Basics die collection, stamped with a sentiment from a new Sentiment Suite set that will be showcased in more detail tomorrow!
For my next project, I created a field of daisies. I started by sponging some green and blue inks onto the background. Then I added a whole row of pretty daisies from the Oopsie Daisy set. The sentiment is again from the new Sentiment Suite: Birthday set, also being released this month.
I mentioned in the Just Mason Around description at the top of this post that the detail layer of the jar can be used alone and then colored if you'd like to experiment with some coloring techniques. Here I decided to do that with some no-line watercoloring. I stamped just that detail layer in a light gray ink, then set to watercoloring it to create some refreshing pink lemonade. I used the Lemon Blossom set to create the lemons, flowers, and leaves surrounding the base of the jar. The sentiments are also from the Just Mason Around set. Notice the pretty gray floral panel at the bottom of the card? That was done using the Summer Sketches set that was showcased yesterday. I just can't stop making pretty backgrounds with the line images from that set!
My next card uses just the Lemon Blossom set to create an all-over one-layer card. This was so fun to stamp, and turned out so bright and cheery! The sentiment, stamped in black ink, is also from the Lemon Blossom set.
I just love bright blue and yellow together, so for my next project I set to work creating a vibrant blue background using Distress Oxide ink in Salty Ocean. I diecut and stamped a whole bunch of lemons, slices, leaves, and blooms from the Lemon Blossom set and scattered them across my sponged panel. The sentiment is also from Lemon Blossom, and it was heat embossed with white powder.
My last card for today has a bit of a softer take on the lemons. This time I paired them with the eucalyptus branch from the Simple Things set. They work so well together to create a pretty lemon branch! The sentiment I used here is also from Lemon Blossom.
Now that you've gotten to meet all of today's new products, you can "greet" them for a chance to win a $50 gift card! Read on for details…

Comment here on the blog for one entry (one comment per person)
Comment on our guests' blogs for more entries (one comment per person, per blog)
Comments close at Midnight EDT on Thursday, June 20
Winners will be posted at 7am ET on Friday, June 21 here on the blog

Once again, we have some amazing guests joining us!
(click on the images to visit their blogs)

[iheu_ultimate_oxi id="7″]
Thanks for visiting today! We'll be back again tomorrow for another day of product reveals and projects. I have some of my all-time favorite projects to share tomorrow!
Read more...