Hiking Paradise, The Gantrisch Nature Park
25-06-2019 14:06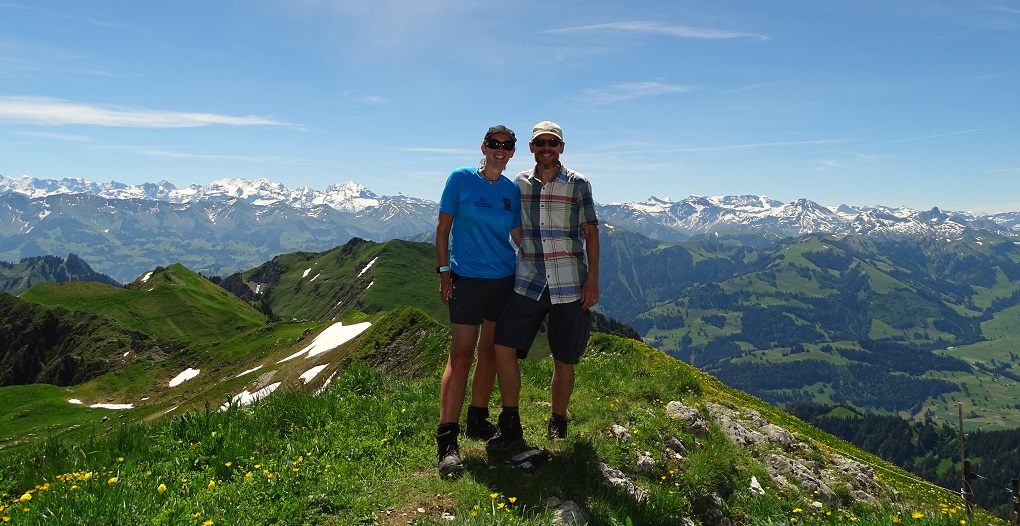 Zagan the motorhome is, let me see if I can get this right, high on the Gurnigel Pass, in a car park on the edge of the Gantrisch Nature Park with sweeping views down over the Swiss pre-alpine mountain meadows (N46.72222, E7.44612). Yep, I **think** that's right! We're about an hour's drive due south of Bern here, along great quality mountains roads, although they were buzzing like a kicked wasp's-nest on Sunday. Thick with motorbikes, sports cars and cyclists. Best to make the journey on a weekday methinks, although we kept stress levels down by ducking into lay-byes whenever we could.
First up, a huge thank you to the wonderful response we had to Ju's post about our upcoming mountain marathon runs in Zermatt. We're very grateful for the donations and messages of support, and even more enthused to get up that hill in, gulp, 12 days. We're doing the runs to raise money for the British Lung Foundation after all the help they've given my dad over the years. If you want to read more or donate a couple of quid, please nip over to our secure Just Giving page. Thank You!!!
So, yes, Switzerland can be eye-wateringly expensive! Groceries, eating and drinking out, campsites and diesel, all the staples of motorhome life, are more expensive than in the surrounding countries. I read up a little on why this should be and it seems the reason is, well, no-one's really 100% sure. From what I can tell, stuff costs a fair bit simply because, like in Norway, the locals have a relatively high amount of money compared with their neighbours. This prosperity seems to drive up the cost of living until it levels out, at higher price-point than France, Italy and Germany, for example. Interestingly, not everything is more expensive here. I've read electronics can be had up to 20% cheaper, which completely contradicts my theory. Ho hum.
Just how much do these high costs impact us motorhome wanderers? Not as much as we sometimes think, once the initial shock has settled down at least! There are ACSI campsites still giving out-of-season discount for a few more days yet, some a couple more weeks, so we can get relatively low-cost camping (about €20 a night) if we want, plus park4night.com has aires and service points we can use for a few Francs, although they're much fewer than in France or Germany. Even if we pay out the typical Swiss €40 a night campsite rate from time to time, we can free-camp in many (very beautiful) places for 3 or even 4 nights before we need services again, bringing the cost per night down.
According to Fuel Prices Europe, diesel in Switzerland is roughly 1.63 CHF/l (Swiss Francs per litre) which is about €1.47/l, only 5c a litre more than France on average. Even if we didn't hunt out the cheaper rates, that means we're paying roughly €3.50 more for a 70 litre fill-up. Switzerland's not huge, and we filled up before we came and will aim to leave empty, so diesel will likely cost us less than €10 more for our stay. The motorways are toll, but you can either opt to avoid them or €40 buys you unlimited access for a year (we went for the latter, buying the vignette a few days ago). We will have to buy fresh produce while we're here too, but the bulk of our food was brought in from France (plus some bacon and sausages from Blighty), and we don't eat out often anyway. As a rough idea, a restaurant curry in Bern was about €26 per person without drinks, sides or tip. All-in-all we might be paying perhaps €75 a week more to be in Switzerland (compared with France, Italy or Germany) for our 3 week stay. In our opinion, unless you're on a very tight budget, you can visit even the most expensive countries in Europe, using a motorhome to manage your costs.
Like Norway (read our guide to Norway here), the increased cost to be here is easily balanced, in our eyes at least, by the incredible beauty of the place. Our front blinds are closed at the moment, as continental Europe's on the verge of a 40°C heatwave, and we're using the screens to fend off some of the sun-blast. If they weren't, or if I wander outside with a cuppa, I'd have a heart-lifting view of meadows ringing with the bong-bong-bong of cow bells and the ting-ting-ting of smaller, tinnier bells attached to flocks of goats. On Sunday an endless roar of motorbike and sports car engines added an excitement and distraction to all of this, but we're into the week now and everyone's gone back to work (to pay for the Ducatis and Lotuses I guess), so we're back to birdsong and cow bell bonging again. Someone's flying a model glider up around the hills too, giving us something to trace around the sky in an idle moment, of which there are many.
This morning we headed off into the hills of the Gantrisch Nature Park. Which means we donned our boots and backpacks, slapped on the factor 50 and wandered straight onto the trail next to the car park. I'd run up there yesterday, so had an idea what the view was like on the other side of the ridge we were about to hike up (clue: flipping amazing). Five hours later we pulled open the door of Zagan and collapsed inside, tired, smiling and happy. The trails aren't exactly flat around here, and there are still patches of snow to slip and stumble across. The sun's really beating down (although we're about 1600m up here, so the air is cooler than in the valley), and we managed all of 6 miles in that time. Not exactly speedy, but our distance was much reduced by the amount of gawping the views called for. And what views folks, what incredible views!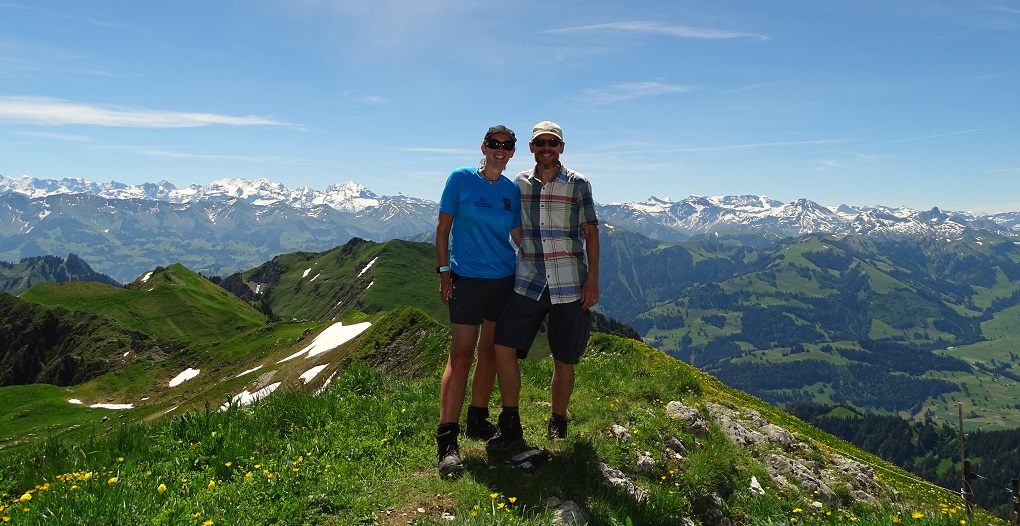 The Bernese Alps are off to the south of us, and we could see 'em all, rank upon rank of peaks with a final backdrop of the big boys, 3000 and 4000m high, famous names like the Eiger and Jungfrau, although we couldn't identify any of them, to be honest. Down in the valley below the ridge marmots squealed and comically hopped about, frantic, cute and fat. Above us a shadow heralded swooping death from above, a graceful bird of prey moving too quickly to allow a photo. At the Morgetepass, just before we started our descent back to the van, a small herd of goats took a liking to us, proferring bony heads to be scratched and attempting a leg-lick or two.
Our walk was only a tiny part of the network of hikes around here. Walkers arriving in the car park this morning were better kitted out than us, some carrying climbing gear (there's a via ferrata nearby) and some with overnight kit for very long hikes. There are yellow signposts everywhere, pointing off this way and that, some to mountain peaks 4 hours away. On Sunday the place was awash with walkers, many using poles for stability on the rocky paths (we would have been grateful for a set each today). Mountain restaurants offer seats with magnificent views so you can re-invigorate yourself if you don't happen to have a fridge-freezer, larder and cooker on you! It's no exaggeration to say this is a hiking (and trail running if you're into it) paradise.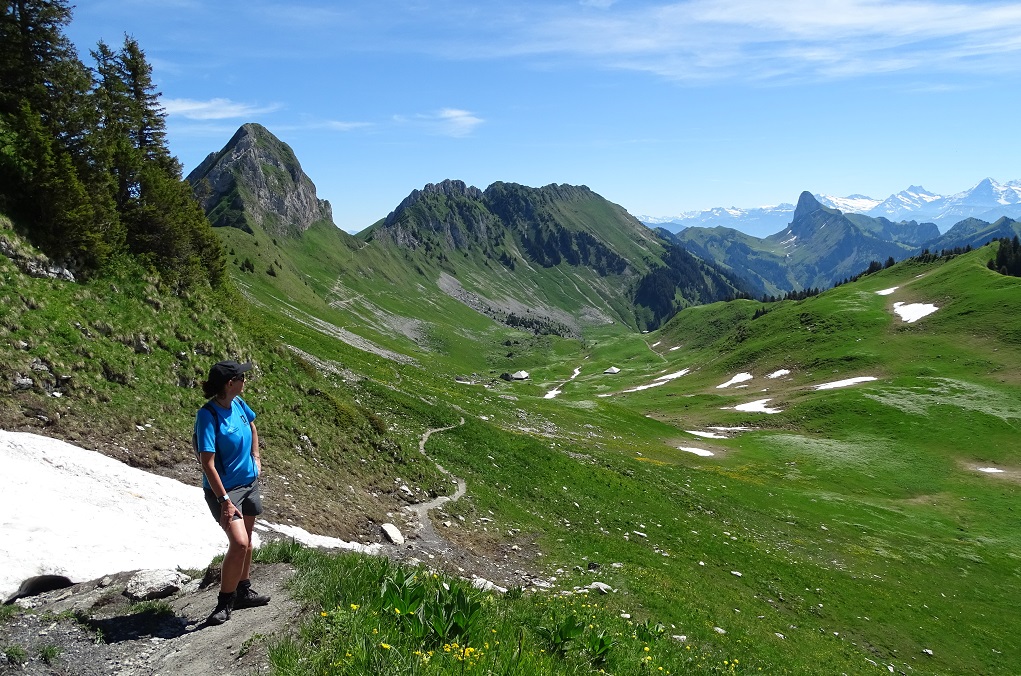 As usual with such out-of-this-world vistas, they're both impossible for me to describe, and equally impossible to capture in photos. We try to do both, of course, and always fail, but we know not everyone can do what we're doing so we do our best to get across the beauty of our world. If you are able to get out here though, we can heartily recommend this place, especially if you enjoy hiking, it's simply superb.
Cheers folks, Jay
Read more...