Spotlight & Giveaway: Renegade by Anna Schmidt
17-06-2019 22:06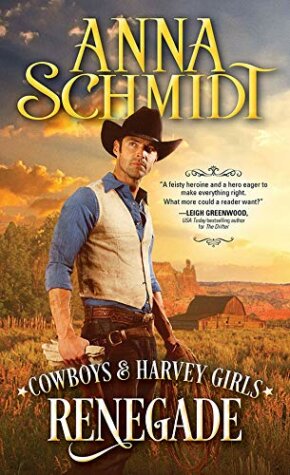 Today, HJ is pleased to share with you

Anna Schmidt's

new release: 

Renegade

Meet TheHarvey Girls. These real-life pioneering women were symbols of elegance in the wild frontier: taming rough manners, falling in love, and changing the face of the West forever.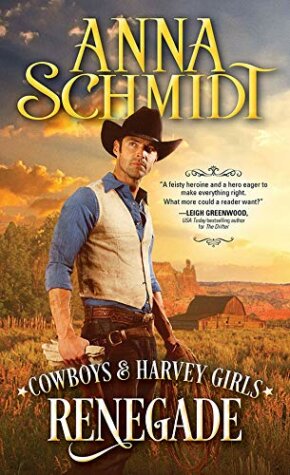 He'll protect her reckless heart.
No matter the cost…
Lily Travis may be a Harvey Girl, but she's a rebel—and a romantic—at heart. Too bad her impulsive nature led her to marry a man who promised a life of ease and prosperity, only to disappear the very next day. She's kept her secret as best she can, and now she's convinced she'll never find true love…not even with the handsome local sheriff she can't get off her mind.
Cody Daniels knows Lily isn't the right woman for a by-the-book lawman with political ambitions. She's brash, headstrong…and entirely too tempting. But when Lily's past catches up with her and the villain she married threatens everything she holds dear, Cody is determined to defend her honor and show her the future they could have together—no matter the consequences.
Enjoy an exclusive excerpt from Renegade 
Renegade is the second book in the Cowboys & Harvey Girls series. It's a sweeping, powerful Western historical romance series, featuring intrepid Harvey Girls and the rugged cowboys who win their hearts.
February 1899

Lily Travis stood with the rest of the Harvey Girls, eyes brimming with happy tears at the sweet scene before them. Grace Rogers, former Harvey Girl, was repeating her vows with Nick Hopkins, the handsome ranch foreman they'd all met on the train from Kansas City just five months before. The lump in Lily's throat was as much about her own sadness, however, as her happiness for Grace. A few years earlier, Lily had made a huge mistake—one that promised to prevent her from ever finding the true love Grace and Nick shared. She forced a smile when her friend Emma nudged her. This was Grace's day, after all.

At the reception that followed, Lily helped pass slices of the wedding cake as Grace and Nick cut them. She nodded in agreement at guests bubbling with joy for the couple, until, cake in hand, she found herself face- to- face with Sheriff Cody Daniels. He was his usual serious self, a blessing considering Lily's mood that day. On the rare occasions when he did smile, the man had dimples, and Lily was a sucker for a man with dimples. Emma and Grace used to tease her about that, and Lily couldn't deny that the lawman was definitely good- looking. But he also played life by the rules— something Lily had trouble doing. Something that had been the source of her problems from the time she was sixteen. No, it was best to keep her distance from Cody Daniels.
She handed him a large slice of lemon cake. "Bon appetit," she said as she prepared to move on.
"Nice fandango," he replied, unintentionally blocking her way as he looked around the large hotel dining room. "You're not having cake?"
"I…" He was being nice to her. That made her suspicious. In her experience, most men wanted something, especially when they took the trouble to be nice. "I'm helping serve…"
He surveyed the room. "Looks to me like every-body has cake." He turned his gaze back to her. "How about sharing this piece with me?" Dimples weren't his only appeal; he had deep- set eyes that were brown with flecks of gold.
To avoid getting lost in those eyes, Lily deliberately focused her attention on his forehead, where a cowlick of dark-blond hair was in need of taming. Her breath quickened while her cheeks grew hot, and she forced herself to concentrate on the dusty tips of his boots. Finally, she thought, a detail that is just ordinary.
Sheriff Daniels didn't seem to notice her discomfort. Instead, he retrieved a clean fork from a nearby table and placed it next to the one already resting on the glass plate. "Could we sit a minute, Miss Travis?" He nodded to a table for two near the windows. "The truth is I owe you an apology, and I'd like to get that covered."
Get that covered? She imagined him seated at his desk and making a list: arrest drunks at Sagebrush Saloon, attend Hopkins's wedding, apologize to Miss Travis. She straightened to her full height, just a few inches shorter than his, looked him in those deep- set gold- flecked eyes, and smiled. "Consider it covered," she said sweetly, deliberately placing emphasis on the last word.
She edged past him and went to join Emma Elliott and Jake Collier, the hotel's kitchen manager. Everyone who worked in the hotel was well aware that Jake had a huge crush on Lily. But employees of the Harvey Company were not allowed to pursue romantic relationships with each other— friendships, yes, but nothing more. Lily liked Jake but really could not see any chance for romance between them. Even if it were possible. And kind as he was, he had accepted that. Still, for the remainder of the afternoon, she flirted shamelessly, laughing at his jokes and later even taking his arm as everyone headed outside to watch the happy couple leave for their new home.
All the while, she was aware of Cody's whereabouts— the ease with which he chatted with guests, which made him seem so much a part of the community, even though he was relatively new to Juniper and his position there as sheriff. Clearly, he was well- liked, and more than one of the town's unmarried women were making blatant efforts to draw his attention. Well, good luck to them. As far as she was concerned, she and the good- looking sheriff were like oil and water— they simply didn't mix.
Once the guests had seen Grace and Nick on their way and drifted back to their homes, everyone on the hotel staff pitched in to make sure the dining room was back to normal and ready for receiving customers the following day. After bidding good night to Jake and the rest of the kitchen staff, Lily followed Emma and the other girls up the three flights of stairs to their quarters. The room she and Emma had shared with Grace suddenly seemed too large for just the two of them.
Bonnie Kaufmann, head waitress and housemother for the girls, had seen to it that the third bed in the room— Grace's former bed— was removed. "The new girls can share a triple," she'd told them at the party. "You and Emma have earned the right to spread out a bit. After all, you have seniority."
It was true that she and Emma were among the waitresses employed the longest by Fred Harvey's Company— five years for Emma, and Lily was begin-ning her fourth. Was this her entire future? Waiting on train travelers who stopped for a meal or stayed for a few days in the hotel? Serving them with a smile, all the while wondering what adventures awaited them once they moved on?
She stood in the doorway of the room she now shared with only Emma and wondered, Where is my adventure?

***
Excerpted from Renegade by Anna Schmidt. © 2019 by Anna Schmidt. Used with permission of the publisher, Sourcebooks Casablanca, an imprint of Sourcebooks, Inc. All rights reserved.
Giveaway:

Paperback copy of Renegade (Cowboys & Harvey Girls #2) by Anna Schmidt
To enter Giveaway: Please complete the Rafflecopter form and post a comment to this Q:

We all make decisions we may come to regret—especially when we're young. What decision did you make in your youth that changed your life?
Meet the Author:
Award-winning author Anna Schmidt delights in creating stories where her characters must wrestle with the challenges of their times. Critics have consistently praised Schmidt for the reality of her characters—exposing their flaws as well as their strengths as she delivers strong tales of hope and love in the face of seemingly insurmountable obstacles. She resides in Wisconsin and Florida. Readers can visit her online at booksbyanna.com.
Purchase Links:
Amazon: https://amzn.to/2ZDY6cs
B&N: http://bit.ly/2UXsTlW
Apple: https://apple.co/2GAwFaD
IndieBound: http://bit.ly/2VyBdI2
BAM: http://bit.ly/2DAzYhE
Author Website: booksbyanna.com



Read more...