Luigi Bosca Vineyards (Finca Los Nobles) at Sunrise
24-05-2019 01:05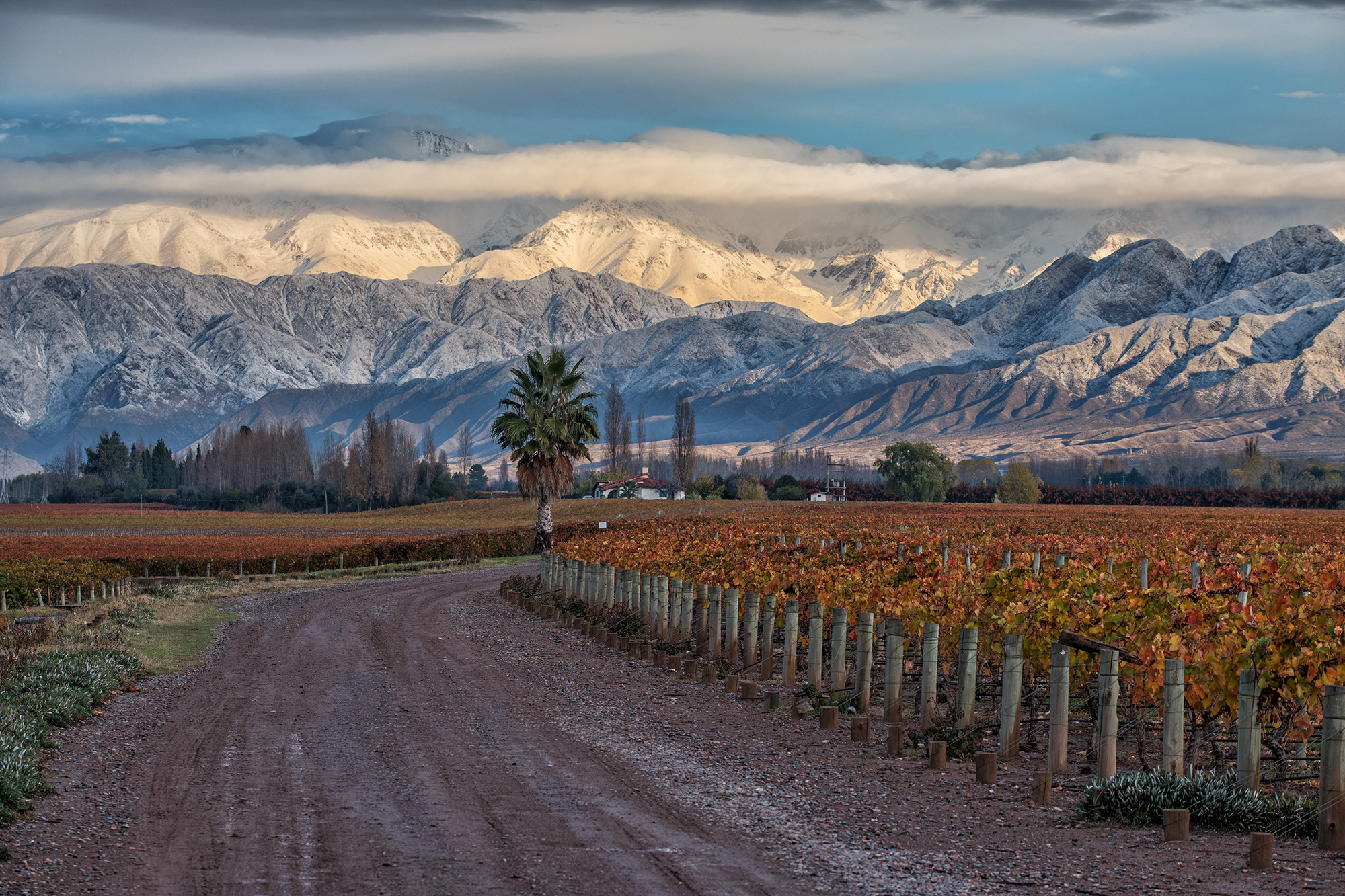 I remember rolling through the back entrance of this particular vineyard (see photograph above) some years back, on mountain bikes, with a group of friends. I remembered that the view across the rows of grape vines and up toward the nearly 20,000-foot Cerro Plata was quite photogenic.
With the help of a son-in-law and Sra. Google Maps, I finally found the "back door" again, at the end of a one-lane dirt road. (Hint: look for the Kaiken Bodega sign on Roque Sáenz Peña, Vistalba, Luján de Cuyo. Turn south there and go to the end.)
The Luigi Bosca Bodega, apart from having a really pleasant sunrise photography vista at this rear maintenance entrance, makes some mighty fine wines. Here is the lowdown on them:
–Grape varieties: Malbec, Cabernet Sauvignon, Petit Verdot, Cabernet Franc, Pinot Noir, Chardonnay, Riesling.
–These vineyards (at Finca Los Nobles) are 90-years-old and planted on sandy soil with flood irrigation.
–There are six other Luigi Bosca vineyards throughout the Cuyo region: in Lujan de Cuyo, Maipú and Valle de Uco.
–If you want to visit the Luigi Bosca Bodega and sample their wares, don't go to this photo op spot (you'll just run into private property signs, a few friendly stray dogs, and the overseer). Instead, head to the bodega itself at Avenida San Martín 2044, M5507 Luján de Cuyo, Mendoza.
Now, here are a few images to show you why I liked what I saw when I rode through Los Nobles…
In the foreground, you have the Los Nobles vineyards in post-harvest colors.
Then, in the background, from left to right, stand the main peaks of the Cordón del Plata: the mound-like Cerro Negro (5,385m, 17,667′), the snow-capped Cerro Plata (5,968m, 19, 580′), the low brown hill just right of the glacier in the saddle includes Cerros Franke (5,000m, 16,404′) and Lomas Amarillas (5,095m, 16,715′), then Cerro Vallecitos (5,435m, 17,831′) and Cerro Rincón (5,318m, 17,448′) with their imposing east faces, and finally the pointed Cerro Colorado (5,100m, 16,732′).
In summer conditions, all of these summits can be "hiked"–you know, sort of like giant Colorado 14ers:
Morning mists:
Always, in the Cuyo region, you'll see this sharp contrast between the original, harsh, and arid Mother Nature (background), and the transformation by human hands (foreground) thanks to a spiderweb of acequias, or canals, that run through the area–based on the original irrigation ditches built by the agricultural Huarpes peoples before the arrival of Europeans:
One of the first snows of late autumn. Winter approaches:
Cerro Plata partially hidden behind the mists of the retreating storm:
Read more...