Wednesday: Sequels I Rather Watch in a Coma
12-01-2019 23:01
Trancers 1 (1984), 2 (1991), 3 (1992)…6 (2002)
There were six movies but unfortunately, (or fortunately) I only watched the first three. Looking for these Ed Wood type classics or B Movies, I could only found a box set with the first three at the local Walmart clearance endless DVD pit.
According to IMDb and Wikipedia (yes, I know), Trancers 4 and 5 were more of the original formula with some detours, and Trancers 6, last one in the series, is without Tim Thomerson (Jack Deth) and the term "a men in a woman's body" is literally a pun for the movie.
Going back to the first three, Jack Deth (Thomerson), is a typical 80's alpha-male, rough, scruffy, tough, chain-smoking-cop (called trooper in the movie) with a natural disregard for authority and with what would be considered a "negative" personality in today's world.
In typical "dinosaur" behavior he enjoys collecting vintage items not as a trend or the popular thing to do, but as an activity he enjoys alone while scuba diving in what used to be Los Angeles, CA. It is a science-fiction movie, so in this version of the future LA is under water after the "Big One".
The City Council of Angel City recruits Deth to go back in time to protect a descendant of one of the members of the council from Whistler, a bad guy, who went back in time planning to change the future with his squad of neon "zombies". Yes, the theme sounds familiar, but instead of a phonebook, Deth gets a baseball card featuring the distinguished and revered descendant.
So Jack goes back in time to LA during the 80s full of neon, big hair, and glitter; however, his fashion sense follows the 50's when the stereotype of the cop or private eye wore a coat, hair grease, and an ever-lighted half-smoked cigarette clinging to the bottom lip.
Searching for clues and one of the neon zombies, he runs into Leena (a young Helen Hunt) in a mall (duh!) as the young vibrant cutie dressed like Santa's helper (another duh!) and a prop to keep the attention of every pimple-face nerd and crusty older man watching the movie.
This was Helen Hunt before "Girls Just Wanna Have Fun", (1985) with Sarah Jessica Parker, long before "Mad About You", (1992-1999); "Twister", (1996); "As Good as it Gets, (1997).
Hunt's career began at an early age with appearances in "The Swiss Family Robinson" movie (1975) and TV show (1975-1976) and the TV movie"Quarterback Princes", (1983).
In contrast Tim Thomerson has been in about 200 movies (to Hunt 105), but mostly as part of the cast and not in a staring role (except for Trancers); however, both actors share rare longevity in a profession that is not known for it.
The first movie was OK to watch once, OK maybe twice (4 times actually), but the following sequels were painful to watch and slowly making you feel like been in a coma was not such a bad thing, only in that state is possible to watch all three of them without having any long lasting medical complications.
In the second movie, Jack is in LA (80's) and married to Leena and the "Green" references began to appear in movies while keeping the formula of the first movie. The third movie continues with Jack in the future and he is sent back to the past to save Angel City from another Trancer's threat. This was the last appearance of Helen Hunt in the series.
In short, these movies were like Terminator (1984) with glitter, hair grease, phonebooks, baseball cards, and pastels all wrapped up with a sexy TV fitness host (Bess Motta) and a sexy Santa's helper (Hunt) with a very low budget, less expectations, and some entertainment value. Just imagine in a parallel reality (like today!) where Trancers was successful and Terminator was not. "Hasta la vista Baby!"
The Snow Devils (1967)
This Italian science-fiction movie was a cross between the typical 60s spy movie with lots of pretty women wearing scanty outfits and men who seem to secrete the "sleep with me" scent mixed with some monsters from outer space.
I saw this movie some 40 plus year ago on the late movie of the night in local TV channel 2 (before there was a Telemundo network) and it was a nice find in Amazon.
The movie was part of a series of movies at the time and revolved around the main character adventures fighting monsters and being chased by women.
Cherry 2000 (1987)
This movie is another 80's movie, but the main subject of the story is been around and still is around today as an universal theme in media and literature, as we are sentimental fools that love an root for boy and girl stories.
Although considered a science fiction/action/comedy movie that begins with typical love for an inanimate object versus the real thing and a theme that was and still presented in literature and movies, but it changes as the movie goes on as the viewer watch the transformation, the struggle, and the climax.
The movie then changes into love story (with action and mischief). Since we know how it's going to end despite the twists and turns that the plot take the viewers before that moment when the boy kiss the girl, the music will get louder, and a great end sequence shot that will say (figuratively) "and they lived happily ever after" ending that never gets old (or so it seems).
Sam Treadwell (David Andrews) lives the perfect life in a perfect world with his Cherry 2000 robot love doll until in a naughty evening of lust, Cherry burns out. There was no possibility of fixing Cherry and the dating game in this version of the future was somewhat different (maybe a reality very soon) the only option was to hire a tracker to go outside the Utopian civilization into the dystopian wasteland and find another Cherry. He hires E. Johnson (Melanie Griffith) and the adventure begins. There is lots of action, sexy scenes, and clown-like characters including the bad guys and their leader, Lester played by Tim Thomerson (Trancers). A notable mention is Laurence Fishburne also appears in the movie as the Glu Glu Lawyer.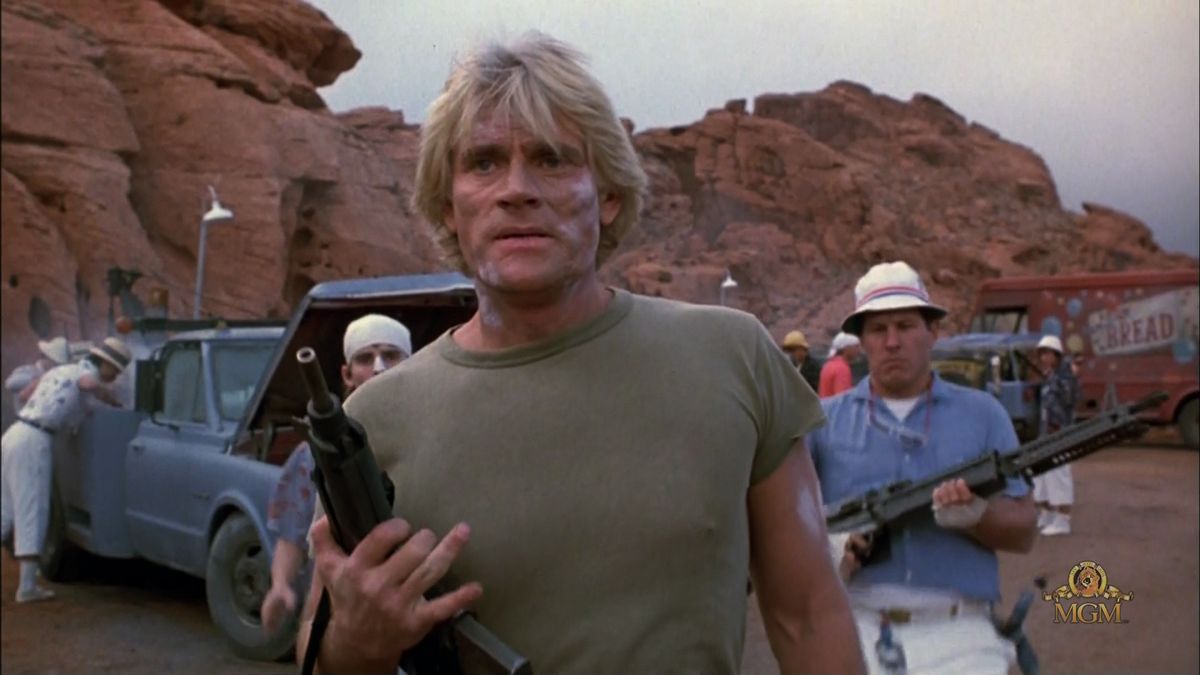 Finally, I went to bed worn out of nostalgia for the long gone 80s, it was The National Day of Gluttony tomorrow and have to make the rounds. It is the beginning of the holidays and the dreading times when fake feelings and excess takes over the collective consciousness of every day people.
Next: Friday Leftovers in Hideout
Read more...